Atypical products:
Currently, due to market needs, we offer clients plexiglass screens, shields, protective walls, and covers such as the safety shield. Protection from viruses, also from the coronavirus COVID19. The plexiglass wall prevents close contact between employees and clients, which enables both parties to be physically separated. At the same time, the clear plexiglass allows for a perfect view through it. In the bottom part there is an opening, according to need.
We have completed hundreds of orders across the entire SR, for municipal authorities, town establishments, VPS's, state institutions, prosecutor offices, prisons, firms, nail salons, restaurants, fast-food restaurants, shopping centres, information desks, private offices, libraries, insurance offices, pharmacies, clinics etc.
The wall, screen can be made into a size of your choice. The size of the window, type of edges, appearance of parts (feet), manner of fixation- by sticking a double-sided clear tape, self-standing, hanging from the ceiling, etc.
We send products across the entire SR by currier; personal collection is also possible at Elektrárenská 1, Bratislava, or alternatively we deliver products in our car.
Calculate the price of plexiglass
Price is without VAT.
The price includes a clear plexiglass with a cut out/window in the bottom part or without it. The size is according to your wishes. The shape, sharp or round edges, are also adapted according to your wishes. The feet include 2 pieces of the clear plexiglass, approximately 15x15cm or a size according to request.  We appropriate the size and shape of the feet to the size of the plexiglass and the intended use.
* Plexiglass has a white protective foil during production and at delivery. Otherwise, it's of course clear.
Ochranné plexiskla – využitie, typy, veľkosti. Všetky z uvedených realizujeme obratom do cca 48 hod., ak je požadované množstvo materiálu skladom.
* plexiskla majú pri výrobe a dodaní na sebe bielu ochrannú fóliu. Inak sú samozrejme číre.
Podnikanie v Corone
Neštandardné reklamné produkty
Ak ste sa už stretli s reklamými predmetmi, určite si prečítajte náš článok o reklamných predmetoch tu na našom blogu. Klikni sem …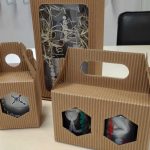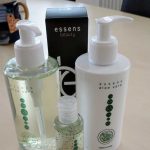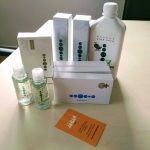 Ukážka prvých balení pre klientov:
Antimikrobiálna fólia, na zvýšenú hygienickú ochranu porvchov
60 μm hrubá priehľadná liata PVC fólia obsahujúca antimikrobiálne látky (ióny striebra)
a s akrylátovým lepidlom citlivým na tlak. Je určená na antimikrobiálnu ochranu povrchov v oblastiach, ktoré vyžadujú vysokú úroveň hygieny, ako sú:
Nemocnice, potravinársky priemysel, obchody, verejné miesta, atď.
Polepom povrchov ako sú dotykové obrazovky, pulty v obchodoch, kľučky dverí v interiéroch a prostriedkoch verejnej dopravy sa znižuje riziko nákazy.
Fólia eliminuje aj kmene baktérií podľa ISO 22196 zredukuje
až 99,99% zistených baktérií kmeňov:
Escherichia coli,
Salmonella (Salmonelle enterica)
Listéria (Listeria monocytogenes)
Zlatý stafylokok (Staphylococcus aureus),
Staphylococcus aureus rezistentný na meticilín (MRSA),
Pseudomonas aeruginosa.
Antivírusová aktivita na kmeň ľudského koronavírusu HCoV-229E a jeho eliminácia podľa ISO 21702:
94,99% po kontaktnej dobe 15 min
99,87% po kontaktnej dobe 60 min.
Označenie prevádzky vybavenej zvýšenou ochranou povrchov pred šírením vírusov a baktérií
Hrúbka: 60μm
Šírka: 137cm
Návin: 30m
Životnosť: 5 rokov
Aplikačná teplota: min. 10°C